The Printed Electronics Laboratory at the IMB-CNM joins the ICTS MicroNanoFabs
Recently, the Printed Electronics Laboratory at the Institute of Microelectronics of Barcelona (IMB-CNM) has become part of the distributed ICTS MicroNanoFabs, in which the Micro and Nano Fabrication Clean Room is integrated.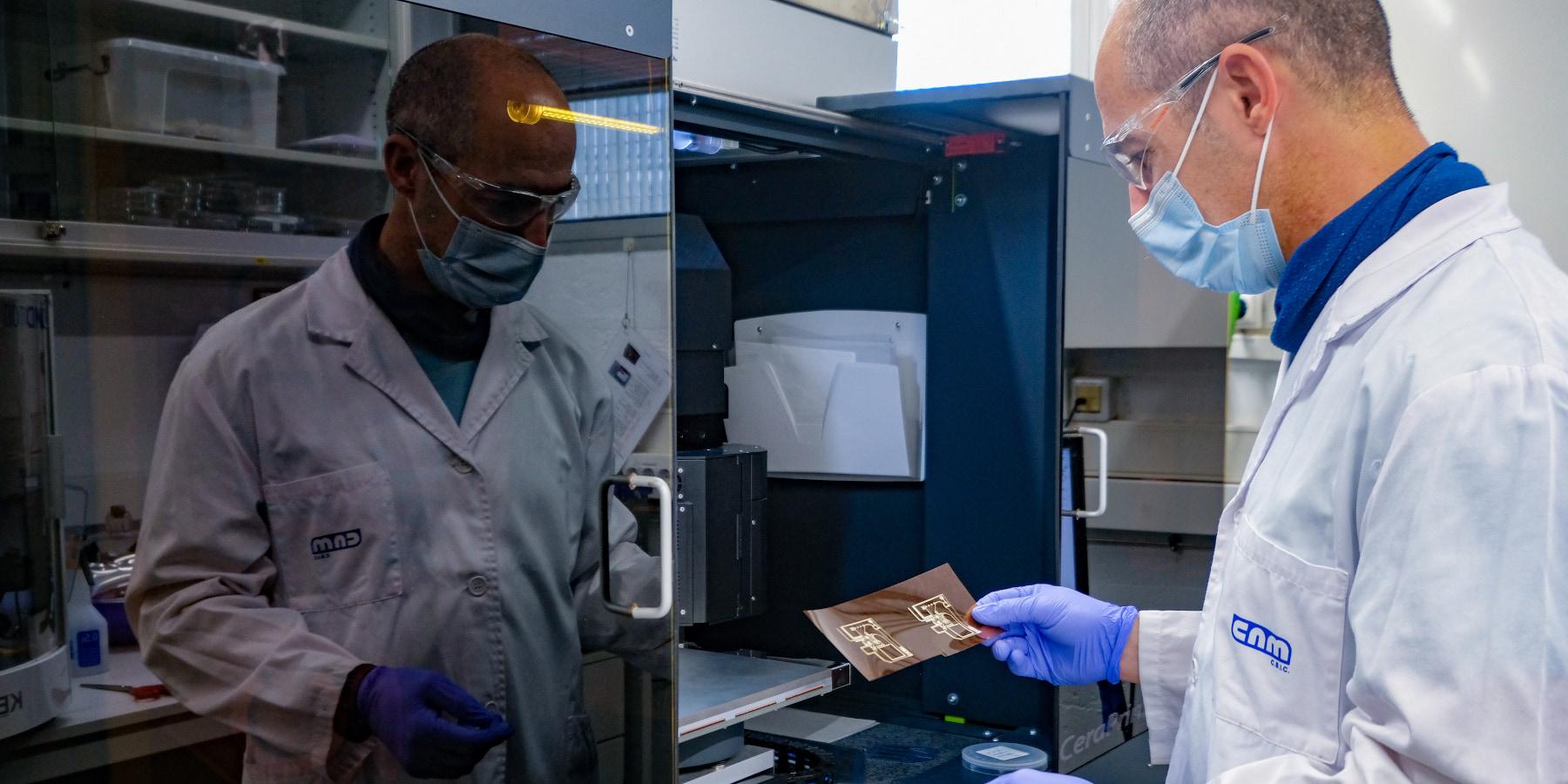 The Printed Electronics Laboratory, born in 2016 from the collaboration of several IMB-CNM research groups, has the necessary equipment and services to allow the development of printed devices and systems through technologies such as inkjet screen-printing, digital dispensing… and thus being able to meet the needs of the centre in terms of flexible, additive, low-cost and environmentally friendly technologies. Now, the lab becomes part of the ICTS (Unique Scientific and Technical Infrastructure, ICTS-SBCNM), dedicated to the development and application of innovative technologies in the field of Microelectronics together with other emerging Micro and Nanotechnologies.
"Being part of the ICTS means that you provide a service of general interest that most of the institute's research groups require. Obviously, this implies a greater responsibility for the laboratory, but at the same time it allows different interests and needs to be intertwined, thus creating synergies between groups and projects", explains Roger Escudé, head of the lab.
The collaboration of the groups SPEED (Self-Powered Engineered Devices), GAB (Biomedical Applications Group) and ICAS (Circuits and Integrated Systems Group) led to the creation of the laboratory. "It all started with the acquisition of the Ceradrop X-Series inkjet printer, which is the one with the highest performance in the laboratory and provides services to the entire institute", adds Escudé.
Since 2014, the ICTS-SBCNM is one of the three nodes of the MICRONANOFABS ICTS Network, the great fund supported by the Ministry of Science and Innovation (MICINN), together with the Clean Room of the Institute of Optoelectronic Systems and Microtechnology of the Polytechnic University of Madrid (ISOM-UPM) and the Nanophotonics Technology Center of the Polytechnic University of Valencia (NTC-UPV).
The MICRONANOFABS Network offers unique open and competitive access to the capabilities of the three nodes. The Network expands the technological offer in the fields of Micro and Nano Fabrication, Photonics and Characterization of Materials and Devices.