The exhibition "La revolució silenciosa" lands at the ETSEIB-UPC
The exhibition that commemorates the 75th anniversary of the invention of the transistor, organized by the IMB-CNM with the collaboration of the Spanish Foundation for Science and Technology (FECYT), will be in the ETSEIB-UPC Exhibition Hall, in Barcelona, until March 30th.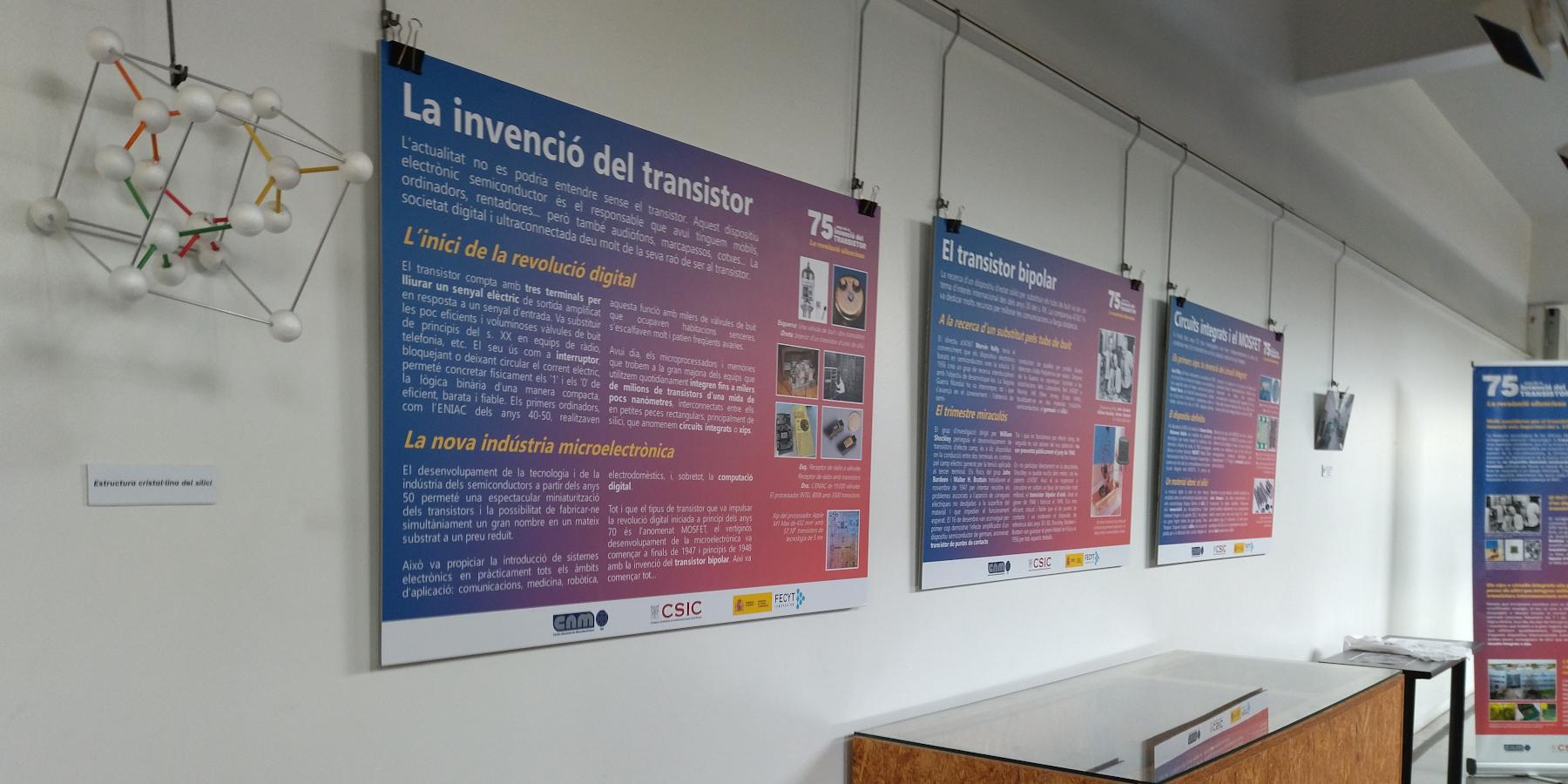 La revolució silenciosa is an exhibition organized by the Institute of Microelectronics of Barcelona to disseminate the history of the transistor and microelectronics from its invention in 1947. Inaugurated last November at the UAB Science and Technology Library, now it comes to the Escola Tècnica Superior d'Enginyeria Industrial de Barcelona UPC (ETSEIB-UPC), in Barcelona, where it can be seen from March 2 to 30. The exhibition has been carried out within the framework of the Un microchip muy grande project, with the collaboration of the Spanish Foundation for Science and Technology (FECYT), and will continue on an itinerant basis through other spaces in the area.
The anniversary of the transistor is an occasion to celebrate the 75-year history of an element that has revolutionized technology and society. The exhibition tells how the experiment that gave rise to the transistor was produced in December 1947, the need to replace vacuum tubes and the opportunities that the discovery opened up in terms of miniaturization of electronic components. Transistors are today fundamental to understanding the operation of a chip and all the electronic devices that surround us. Joan Marc Rafí, Xavier Jordà, David Sánchez, Miquel Vellvehi, Patricia Rodrigo and Sabela Rey have participated in the preparation of the contents.
Within the project, the institute is also organizing a contest for students and a series of conferences with the transistor as the protagonist.
Todos los detalles y enredos sobre el mes mágico de la invención del transistor
The exhibition was inaugurated with a talk by David Quirion, director of the Micro and Nanofabrication Clean Room, who has broken down everything that happened in 1947 up to the development of the first transistor at the Bell Labs in New Jersey, United States, with John Bardeen, Walter Brattain and William Shockley.