The IMB-CNM organizes Open Days and more outreach activities for the Setmana de la Ciència 2022
One more year, the IMB-CNM organizes Open Days from November 14 to 18 on Setmana de la Ciència, as well as a conference and a workshop for teenagers.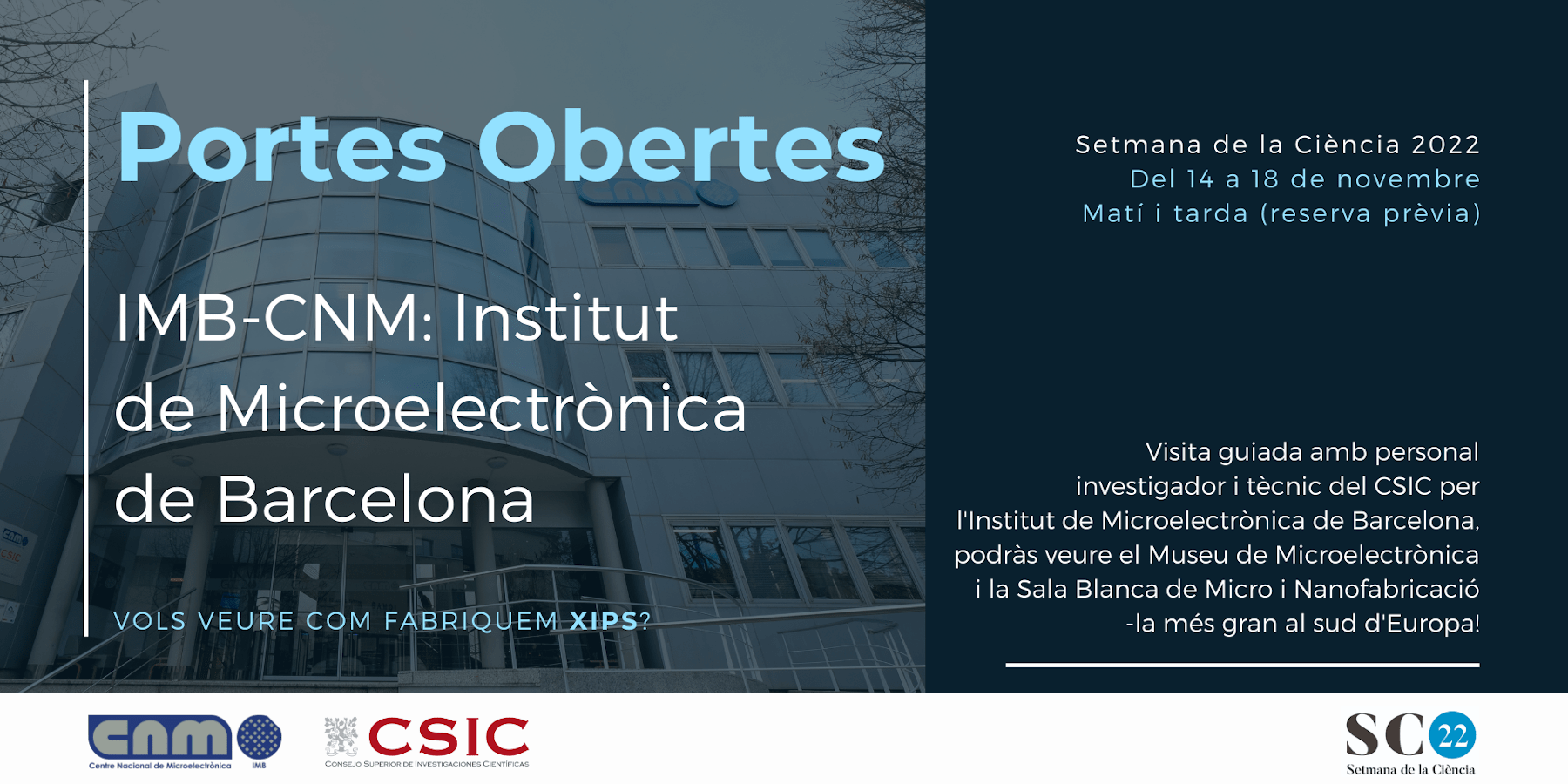 The Institute of Microelectronics of Barcelona organizes three scientific outreach activities for Setmana de la Ciència. These are the institute's Open Days, where research and technical staff give guided tours of the facilities, and a talk and a workshop at the National Museum of Science and Technology of Catalonia, in Terrassa, becoming the first time that the center goes to the city of Vallès Occidental.
The full agenda is as follows:
La agenda completa es la siguiente:
Open Days (Portes Obertes)
Monday 14/11 to Friday 18/11, morning and afternoon shifts, Institute of Microelectronics of Barcelona, IMB-CNM, CSIC (Cerdanyola del Vallès).
The institute offers guided tours with research and technical CSIC staff, in charge of showing the Microelectronics Museum and the Micro and Nanofabrication Clean Room. Cecilia Jiménez, Joan Marc Rafí, Llibertat Abad and Joan Bausells participate.
Xips, xips, xips… aquests minúsculs desconeguts
Thursday 17/11, 18:30, MNACTEC (Terrassa).
Talk by Luis Fonseca, director of the IMB-CNM, on how a chip is made and why they are increasingly important in our lifestyle.
Taller Viatja al fascinant món del transistor!
Sunday 20/11, 11:00 and 12:00, MNACTEC (Terrassa).
Workshop for teenagers on microelectronics and transistors. With the participation of Llibertat Abad, Joan Marc Rafí, Mercedes Saludes and David Sánchez. Organized within the framework of the project Un microchip muy grande, with the collaboration of the Spanish Foundation for Science and Technology – Ministry of Science and Innovation.
The 27th edition of the Setmana de la Ciència in Catalonia
The IMB-CNM has participated in the Setmana de la Ciència for many years, as many CSIC centres. The initiative was born in Catalonia, coordinated by the Fundació Catalana per a la Recerca i la Innovació (FCRI), and this year marks its twenty-seventh edition.
The events take place during a whole week, from November 11th to 20th. Outreach activities of different formats are organized in towns throughout the territory and for all audiences: open days, virtual activities, exhibitions, workshops, talks…
The event aims to bring science and technology closer to citizens and foster scientific vocations among young people. Specifically, for this edition, innovation and local knowledge are proposed as the engine for growth, highlighting the assets in innovation and science that exist.